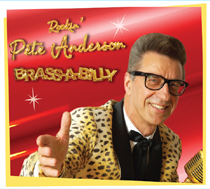 To merge
rockabilly
and
swing
was Pete's idea which he managed to fulfill with his band "Archives" already in the 80's. This time it has blended with the ideas of 21st century!
And now at last - new style, new CD – "BRASS-A-BILLY" is out!
Driving energy of the brass section, unstopable power of double bass and guitar, solo statements of pedal steel guitar, fiddle, blues harp and cajun accordeon combined with quite unusual band's line-up makes this CD a real gem, creating quite a unique mood! Add an adequate vocals, corresponding to the style and here we go!
What can give you a bigger thrill and a great load of positive vibes in the daytime (and night-time as well), whatever you may be doing?:)
"Pete Anderson & The Archives" band,
that has toured all over Europe, could be named as one of the inventors of such kind of swing and rockabilly combination. They were definitely among the predecessors of swing revival era, adding a new touch to those genres of music and inspiring many followers.
The CD includes also a multimedia part - video of Pete's version of Louis Prima's well-known song "Jump, Jive An' Wail". For many subtle listeners and viewers it gives a chance to compare it with some famous Orchestra video clip that was shown much later on MTV and draw their own conclusions.
This Pete's video, created already in 1991, had been included in the movie
"Rock'n'Roll in Baltics"
that was shown at many film festivals throughout the world, USA included.
As bonus tracks there are also two tunes by "The Archives", so that the listeners could get the right feel of the "way it all started".
Still the main intention of this CD is to bring you an outstanding, mind-blowing rockin' mood! You won't be able to resist!
"Hey Pete – I forgot to mention, for the benefit of everyone reading this!
You were 15 years AHEAD of the rest of the world…of Brian Setzer ,
with the concept of "big band rock & roll, and you had it up and running' in the 1980's!"
Bill Turner ("Bill Haley & His Comets"' ex-guitarist)
"I was very favorably impressed by the rockin' music thereon.
Great band, good singer. No frills, straight in your face rock 'n' roll.
Well done, sufficiently different to be of interest.
Thoroughly enjoyable and recommended.
This is a band that I shall go out of my way to see again."
Tony Wilkinson ("Now Dig This" magazine, January 2008)
"Caviar, caviar, caviar… too much caviar here!!!"
Heigo Mirka ("Rock Hotel" band leader & bassman)
"Excellent sound and choice of numbers...
He's a star on his home turf... and if he can get decent distribution for this, he could be a star here..."
John Howard ("UK Rock" magazine, February 2008)
Sponsored by: Euro Auto, "Talsu Krateris", "Origo" trade center, Rigas Dome.
Informative supporters: LNT, Radio SWH, JCDecaux, Delfi.
CD is available at:
http://cdbaby.com/cd/peteanderson