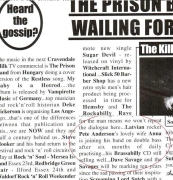 "HAVE YOU HEARD THE NEWS? THERE"S A GOOD ROCKIN" TONIGHT!" - Roy Brown, 1947
Have you already read the "Heard the gossip?" column in "UK ROCK" magazine No. 61 of May 2009?
Actually it's not a gossip - Pete's wife Anna has really spent more than half a year learning the tough slap technique on the upright bass with hot & strong desire to join the band as a full-time member.
Thanks to the appearance of the confederates sharing the same interests in music - two young, gifted and passionate musicians (both having the same name Jānis:), - finally in Latvia there's the band that's playing pure classic
rockabilly
music!
Line up:
Rockin Pete Anderson - lead vocals, rhythm guitar,
Slappin' Annie Anderson - upright slap bass, back vocals,
Johnny Hill - lead guitar, back vocals,
Big John - drums, back vocals.
The band still has no name... - so any stylish & witty suggestions from you are warmly welcome!
Here's the video from the band's first public live performances available on YouTube, shoot by our truest friend, the biggest & most competent rockabilly fan and expert in Latvia - Lil' Bopperer - Ieva herself.
Check it out!
http://www.youtube.com/watch?v=2kaWmmPsbEs
http://www.youtube.com/watch?v=dh_DkDS2X9M
The upcoming band's shows are in Old Riga at the Dome square at the open-air music club cafe "No Problem" on June 28 and July 5.
YOU ARE WARMLY WELCOME!!!
P.S. Pete, Anna & Ieva are heading to Rockabilly Rave!
Let's meet there at the Rockabillyville!